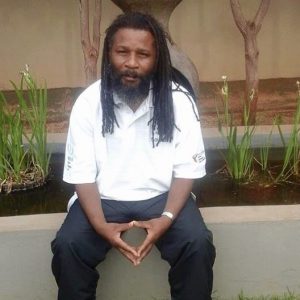 Chris Samuels grew up on former FW de Klerk's farm (FW de Klerk is an important figure who alongside Nelson Mandela put an end to Apartheid and who was awarded, together with Mandela, a Nobel Peace prize for their efforts at reform in South Africa) near the Klein Drakensberg Mountains in Paarl, South Africa. He now lives in Amstelhof, a disadvantaged area in Paarl, "where youth unemployment is high, substance abuse is high, but the crime rate is average. It consists of three informal settlements and the majority of the people depend on social grants," Chris says. South Africa is well known for its majestic mountains, vibrant cities, and good wine. But it's also known for its high crime rates, corruption, and high murder rates. "Paarl is a very beautiful city," Chris continues, "we have the best food in the world and are surrounded by beautiful mountains." The average education level of his area is grade 9, the education 16 year olds receive in South Africa, drawn from highly educated people and illiterates. He is one of the most optimistic people I have ever met, and the way he talks about his goals and hopes for the future are heart-warming, and indeed inspire hope within me. His efforts to keep children off the streets and out of gangs is certainly paying off. Chris started Amharic, his organization and concurrently his daughter's name in 2004.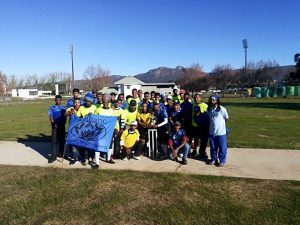 "In 2004, Amstelhof was going through a difficult stage involving crime, unemployment, substance abuse, gender violence, gangsterism and teenage pregnancy. At that moment, there was no existing organization dealing with these challenges the community was facing." His goal is clear. His challenge is huge. But Chris has perseverance and the way he talks about his community further clarifies his undertaking in improving the lives of those around him. "I love the way people [in Amstelhof] are willing to learn and develop themselves and the community. Although this area can be seen as a high-risk area, the community has moral values and pride. People respect each other and are always friendly. Young people are willing to study further and rise above their circumstances."
"I want to see a world without oppression or slavery, and where all people stand together for building a one human race identity." – Chris Samuels
Currently, Amharic has 31 people working for it, ranging from Executive members to gardeners, paid positions and volunteers. "God gave me the vision to start an organization that will change the mind-set of our community, especially of the youth to maintain a positive lifestyle and become role models." Chris achieves this goal a bit every day, by a number of activities Amharic organizes (make sure to read below this post for more details on the activities). I was lucky enough to see him in action when he organized a camp for 50 children in Victor Verster prison, Paarl; the prison Nelson Mandela was freed from. Sleeping next to prisoners the children could see every day, is a method to keep the children out of the cells and show them it's not a desirable way to live, and certainly not worth any crime. Instead, they danced, sang, performed, and enjoyed their freedom while simultaneously developing their creative skills and forming a community of young individuals who do not want to end up in prison.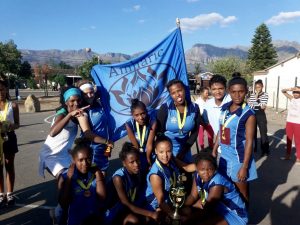 "My dream for Amharic is to see it develop as an organization, and give people access to facilities to live out their own dreams." As such, Chris worked with a respected Dutch lady, Margot van Monsjou, who organized fund raisers and with the raised money donated containers to Amharic. The containers are used for various activities, ranging from art to technology. "This opportunity changed the mind-set of the community, because for the first time the people had direct access to technology. Today, the people from Amstelhof make use of this Amharic walk-in centre." Chris has allowed the community to continue their studies, jobs, and inspires his community to improve their living circumstances. He hopes that the Amharic centre will become a place for early childhood development, a focal point for job hunters, a studio where artists can release their creativity and record music, paint, and dance. He wants it to become a community park for cultural recreation and activities.
Chris would like to say a special thank you to Dafne, for her continuous efforts in helping Amharic grow, and Amharic's energetic and motivated members, without whom Amharic wouldn't exist today. After all, bigger and better things can be achieved together!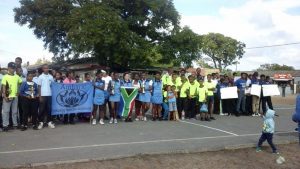 "If people can learn that we are all human, no matter our background or circumstance, and if we treat each other with respect, respect will come back to us." This is what Chris teaches those around him, and what he hopes all the people will recognize one day, too.
If you want to get involved with Amharic you can either donate to the organization to support Chris and his efforts to improve his community, or become an ambassador and help spread the word about Amharic. If you are good at fundraising, you can volunteer to do so and become part of improving the lives of children in Amstelhof. You can even become a board member, locally or overseas, and use your ideas to help Amharic flourish. If you like the sound of that, let me or Chris know.
Amharic's activities:
Youth in culture: Every year, Amharic runs the Set the Stage on Fire cultural roadshow throughout the Drakenstein municipality in Paarl, South Africa. The aim of this show is to involve informal groups (such as dancers, singers) and artists from different backgrounds and communities and give them an opportunity for exposure. Talent seekers are more than welcome to come and visit these shows and scout your next singer, rapper, or dancer! More than 10 different groups perform at these shows. It is a great gathering of talent and motivated youngsters.
Sport development: Amharic organizes Landjie Cricket and a netball tournament for some 12 different teams, in which both seniors and juniors participate. Amharic runs the following competitions: Amstelhof Cup, Freedom Cup, Super Cup, and the Super League. These events form part of the organization crime prevention strategy for youth at risk.