When my dear friend Maud came to visit me in Shanghai, who had just been trekking through Australia and Fiji, I HAD to come up with a program that would blow her socks off quite as literally as her skydiving adventure. Did it do that eventually, I sure hope so but you might have to ask her for an objective answer 😉
How to see Shanghai in two days. So technically, this phrase does not in any way suit traveling in my opinion. It really depends on what kind of traveller you are, and frankly, what activities interest you. If you like brunch, cocktails, lots and lots of walking, shopping, and (some) touristic spots, this is your blog post for your next journey to Shanghai 🙂
She arrived at around 21:30 in my arms. It is possible to get a visa for Shanghai, Beijing and Shenzhen for 7 days, if you directly enter China and stay in one of these three cities. That means, if you have a stopover in Guangzhou or Harbin, this rule doesn't count. We learned that the hard way. However, be sure to ALWAYS check these rules before travelling because they change overnight. We took the Maglev and then took the metro to my home. The Maglev is a train that reaches up to 430 km/h! Needless to say, you get where you need to be fast 🙂
Day 1
We had a good night sleep, and the next day after putting on our eskimo suits braved out into the cold and headed straight for a fantastic brunch at the Pink Pig. Their food is healthy, filling, colourful, and delicious. The staff is very friendly, too. From there, we headed on to register Maud at the police station, because she was not staying in a hotel but with a friend. This rule also applies to accommodation in an Airbnb. A very simple and quick procedure, so no worries if you need to do this. After the police station, we took on our first adventure: the fake market.
One of those places China is known for. Made in China, like most things in the world, but then fake. I once saw a car driving that had 'Rnage Roevr – Land Wind' written on it.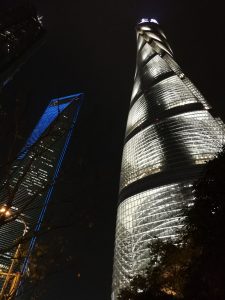 I just hope it didn't have a tromo in the front instead of a motor. Aderzombie & Pitch, for example, can be found, and many other brands. Although I must say, it's incredibly difficult to tell the difference these days between the real and the fake.
Clothes, shoes, electronics, glasses, and souvenirs can all be found here. Yes, you can barter, but please do so with respect. Remember you are talking to a human being who is trying to earn their money. Maud bought chopsticks, cards, tea, a teapot, and gloves there. I bought two hoodies. This particular fake market can be found at the Science & Technology Museum metro stop (line 2).
After we finished our shopping, I took Maud to the wrong street, but which eventually turned out to be rather interesting. Instead of Nanjing East road, I took her to Nanjing West road, which is well known for its length, absence of vehicles, and the sea of people. We walked along this road until our feet couldn't bear it any longer and we sat down to have a coffee at the only available table in 3 cafes that were situated next to each other. A well deserved coffee break!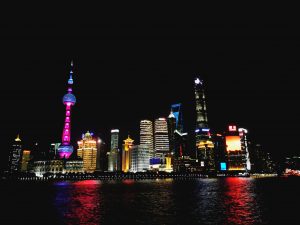 When our feet had rested, I wanted to show my friend a good, Chinese meal: Hotpot. I took her to my favourite hotpot restaurant, Faigo (小辉哥火锅). A must try if you visit Shanghai! Hotpot in general is very famous in China. After filling our bellies with mostly veggies, I took her to Xintiandi (新天地) for a drink. A perfect mulled wine on a cold evening. We spent much of the rest of the evening there, with the bill to prove it…
Day 2
We had brunch at Cafe des Stagiaires this time. A very French themed bistro, with tasty food and good coffee. We walked to the French Concession from here, an area in Shanghai where most of the expats can be found. The French once settled in Shanghai, and this area has French buildings, cafes, and many French people.
I wanted to show Maud the parks of which there are many in big cities. Especially on weekends, parks are a great introduction to Chinese culture. Families fly kites, the elderly do Tai Chi, play music, sing, and dance. We walked passed a big crowd dancing together, and it wasn't before long when we got noticed and Maud was asked to dance. The man who took her hand was very enthusiastic, and had some good moves. I felt dizzy just watching, and later really was dizzy when I danced with him too. We went to Zhongshan Park (中山公园), and I really recommend visiting a park if you come to Shanghai. Bring a kite, a microphone, a chess board, or your dancing shoes and join in any activity! You will do yourself and the Chinese people a favour 😉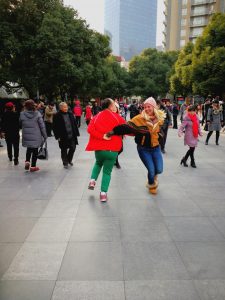 For dinner, we had hotpot a second time. It's a perfect meal for winter time. After dinner, I showed her the very famous skyline of Shanghai at the Bund. Everytime I see it, it mesmerises me. To think how quickly Shanghai has developed in some 30 years is unbelievable. Try to go here at night, and capture the 'I <3 SH' flashing by on the buildings.
Sadly, Maud had to leave the next day. Her trip was short but sweet! And I hope well worth it.
I miss you, girl! Keep up your good and hard work. See you soon <3
A quick summary of activities:
Brunch @ Pink Pig & Cafe Des Stagiaires
The Fake Market @ the Science & Technology Museum metro station
Walking @ Nanjing East Road
Drinks @ Xintiandi
Views @ The Bund
Hotpot @ Faigo
Walking @ Shanghai
Dance and learn about Chinese culture @ Zhongshan Park