(Fort Beaufort –> Addo –> Willowmore –> Paarl)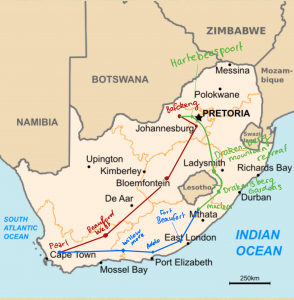 Firstly, a very warm welcome to my new blog! I'm so very happy with it, and dig the new name 😉 Credits to the brains and creator: Dellas!
Now for the final part of this trip. We initially planned to only tour around for 6 days or so. (This time frame gets you from Cape Town to Johannesburg along a nice route, but a hurried one. Seen from a travel perspective). By now, we are on our 13th day. Eventually the trip had a duration of 14 days. The truth is, as my good friend Stacy said, South Africa never ceases to amaze.
I could not agree more.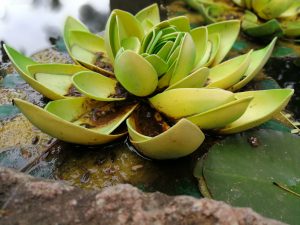 My brain is preoccupied with the views and the never-ending spotting of Ngunis (a Southern African cow). I have heard the word 'Nguni' more than the word 'and' on this trip.
But the thing I perhaps loved most about this trip, was the stay near Addo Elephant Park and the safari.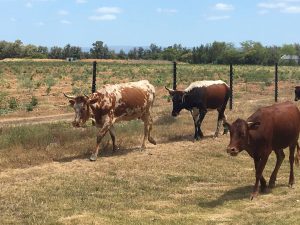 This part was a favourite of the trip for all of us. We loved it so much we stayed for two nights, giving me the opportunity to go horse riding the second day. If you are into horse riding, be sure to do a horse back safari at Addo as well. I was lucky enough to be able to do it, and the tourguide Themba and I missioned into the park on horseback, looking for lions (I kid you not), rhinos, allies (elephants), and found none.
We did see zebras and many, many, many ostriches. The last time I went horse riding was in Mongolia, so the next 3 days I could hardly walk. But, it was worth it! Themba isn't afraid to go for a run, on the horse I mean, which gave me quite a fright when my horse suddenly took off following Themba.
But before I get to Addo, let me tell you about another place we eventually only drove through and didn't stay at, but that was absolutely magical. Hogsback. Entering this little town was like driving into a fairytale forest. If you have a bit of an imagination, (or really good glasses because they might exist, who's to say) you'd see gnomes riding deer or even unicorns if you're lucky. Again, it had the misty mountain vibe, it smelled like forest, and had all these hippie activities going on. I only experienced this hippie vibe once before, in Goa, India. My friends and I scootered through a part of Goa where the hippie vibe was so intense that you spontaneously grew dreads. I am aware that Rastafarians wear dreads as a vow to Jah. But somehow modern- day hippies like to wear dreads, which is also why I had them. I did cut them, however, because I started to feel uncomfortable wearing something that to some people means something very significant but not to me. In this town I only managed to buy a clay hog and a clay turtle that actually looks like a dinosaur, and then the storm had us running (driving) out of the town. There was lightning hovering right above us and we nearly got struck a couple of times. It did hit the electricity supply to the tiny town, so everything was dark when we were looking for a hotel. Instead, we went to Fort Beaufort. Honestly, I recommend you to stay in Hogsback and experience some magic, and skip Fort Beaufort. It wasn't so great. There was hardly anything to do, and the only food option you have is at a hotel, which was a funny experience but not per se a delicious one. But hey, such places make you appreciate the good stuff just that much more.
Back to Addo! It truly is a most beautiful safari destination. It's almost guaranteed you will see ellies there because of the large herd they have roaming the Addo grounds. You have to search for them still, which keeps the excitement in place. The knowledge that they have the space to be ellies, however, is for me by far the most important.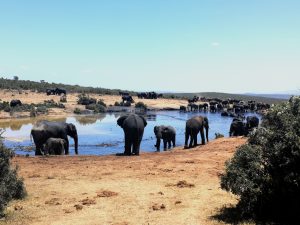 We spotted a large herd of ellies enjoying themselves by a dam, playing in the water and the mud. We watched them, mesmerized, for an hour. My heart sang with joy as I saw the many baby ellies, which is beautiful to see considering the low number of elephants left in the world. Two large bulls and what I think was the matriarch, were keeping an eye on us as the rest of the herd were splashing around (you can see it in the picture above, the only elephant facing us), trumpeting at each other and at us. At one point, a mom with her baby walked closely passed the cars. The baby's curiosity stopped her, and she looked at us and then threw a very high pitched "Hrrree!" (a trumpeting noise) our way and then ran off back to her mom's hind legs for safety. We all laughed at this innocent bravery.
I have such a deep love for elephants that leaving Addo made me feel heartbroken. It'll be a while before I can see them again, as I refuse to go to zoos and there are no wild elephants in China that I'm aware of. Nonetheless, I really enjoyed it and definitely recommend visiting Addo. We stayed in Avoca, a beautiful Bed & Breakfast close by to the park, for a very decent price. A very tasty dinner can be consumed at Africanos, about a 15 minute drive from Avoca. The sushi is fantastic, and goes well with one of my favourite craft beers – CBC.
From Addo, we decided to drive through the Baviaanskloof, one of South Africa's most beautiful kloofs. It was a hobbly ride, but breathtakingly beautiful. There is no reception, so make sure your tyres are up for the challenge, and your mind as well as it can get very steep at some points.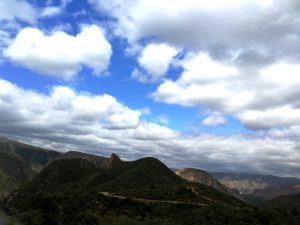 Keep your eyes open for monkeys too! And other beauties, like Kudus. If you come from the East into the Baviaanskloof, like we did, Willowmore comes to your rescue once you are through the kloof, as the kloof is very long and requires your utmost attention. We found a lovely B&B called the Willow Historic Guest House, with super comfortable beds, nice showers, great food, and hospitable management. The bar décor is also something to look at, controversial to say the least but nonetheless educational. The town is very small, apparently very touristic, has a donkey limo, and expensive souvenirs.
And the next day, the trip came to a sudden end. We wanted to stay one more night, and return home the next day. But we made the decision after all to find our way home that day, and at around 18h00, we made it back home. My trip to SA in general is coming to an end soon, and I feel sad already to leave even though I am going back to Shanghai. The thought of my good friend coming to visit me is making the heartbreak a lot easier to bear.
I am now back in China, I had a lovely time with my awesome friend, who has many stories to tell herself about her backpacking experience in Australia and Fiji! If you want a more detailed map of this road trip, please contact me for more details 🙂